CPR Certification Course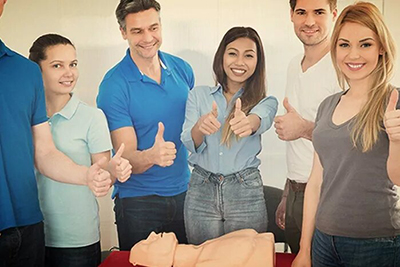 Through training classes, Saving a Life Teaching LLC in South River, New Jersey will teach you how to deal with this kind of crisis. After the course, you'll receive a card or certificate of completion. We also offer a two-year certification approved by the American Heart Association (AHA).
CPR (CardioPulmonary Resuscitation) is the procedure used to artificially push blood and oxygen out of the heart to the brain and other vital organs of the body The use of chest compressions and breathing helps keep a person's brain alive until medical professionals arrive on scene.
AED (Automated External Defibrillator) is an electronic device that self-analyzes the heart and will determine whether or not a victim needs an electronic shock to restart their heart. Training is simple and AED's can now be found in many public places.
Training Courses
BLS Provider Courses
HealthCare Provider (BLS)This program is designed for health care professionals or first responders such as EMTs, firefighters, and police officers. Training involves adult/child and infant CPR, AED and BVM usage, airway obstruction, and working as a team with other rescuers. Full course lasts for approximately 4 hours, while a renewal course lasts for about 3 hours. Certification is 2 year American Heart Association.
CPR Courses
HeartSaver CPR/AED
This course is designed for everyone. Whether you are a babysitter, day care worker, teacher, security guard, new parent, coach, or just want to learn how to perform CPR, then this training is for you. Training involves adult/child and/or infant CPR, use of an AED, and the relief of an airway obstruction. Classes last for approximately 2-3 hours. Certification is 2 year American Heart Association.
More Courses
Aside from the aforementioned classes, we offer other courses you're most welcome to join. Some of these classes include:
911 Telecommunications Certification
Advanced First Aid
Basic First Aid
Bloodborne Pathogens Training
Child Safety and Babysitting
Emergency Medical Dispatch
Emergency Medical Response
EMS Consulting (for Police, Fire, and EMS Agencies)
Hazard Communication (Right-to-Know) Training
Medical Oxygen Certification
Wilderness First Aid
Need a defibrillator? Contact us and we will work with you in getting the right one!